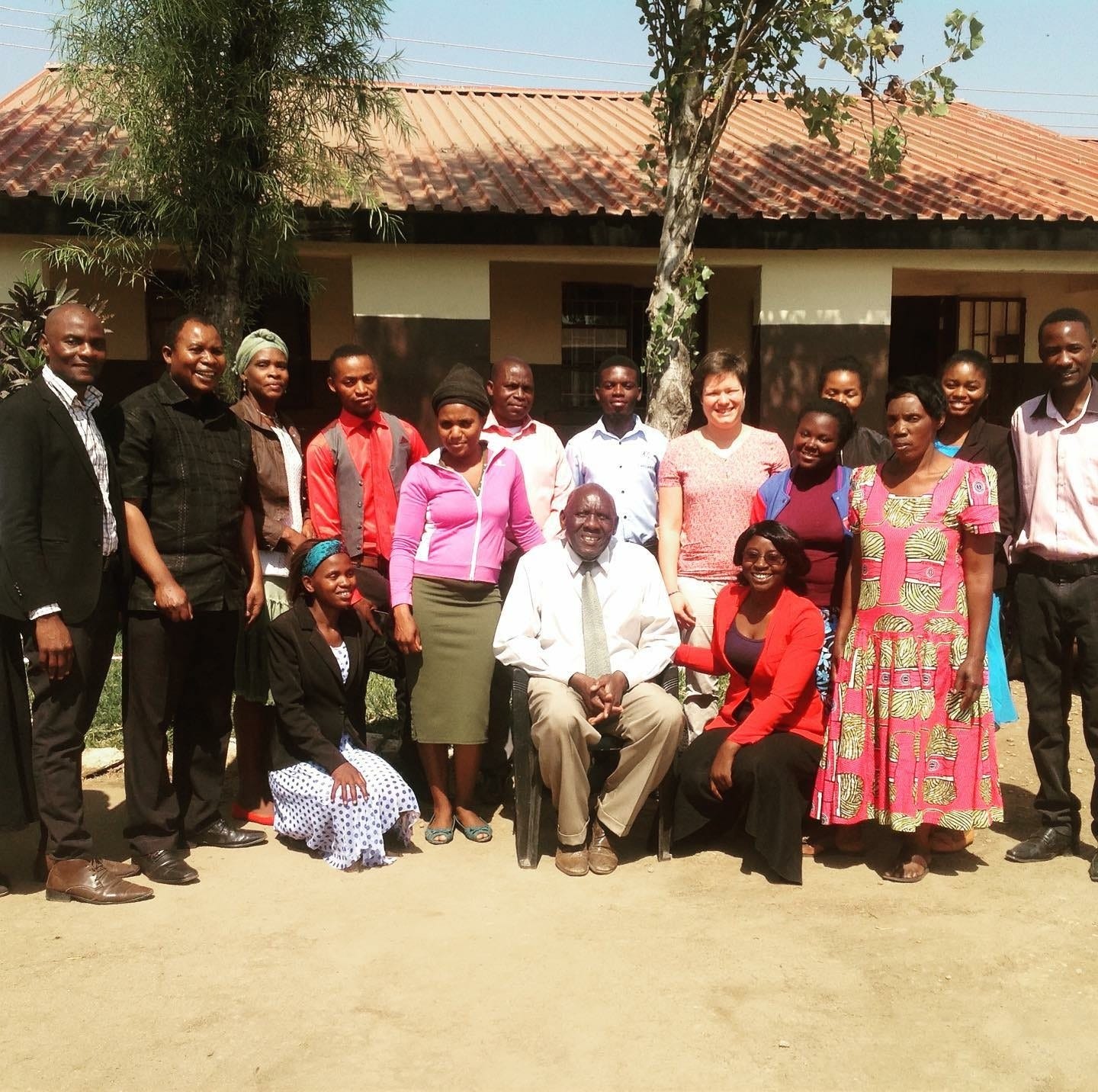 our teachers
"The influence of a good teacher can never be earsed."
(unknown)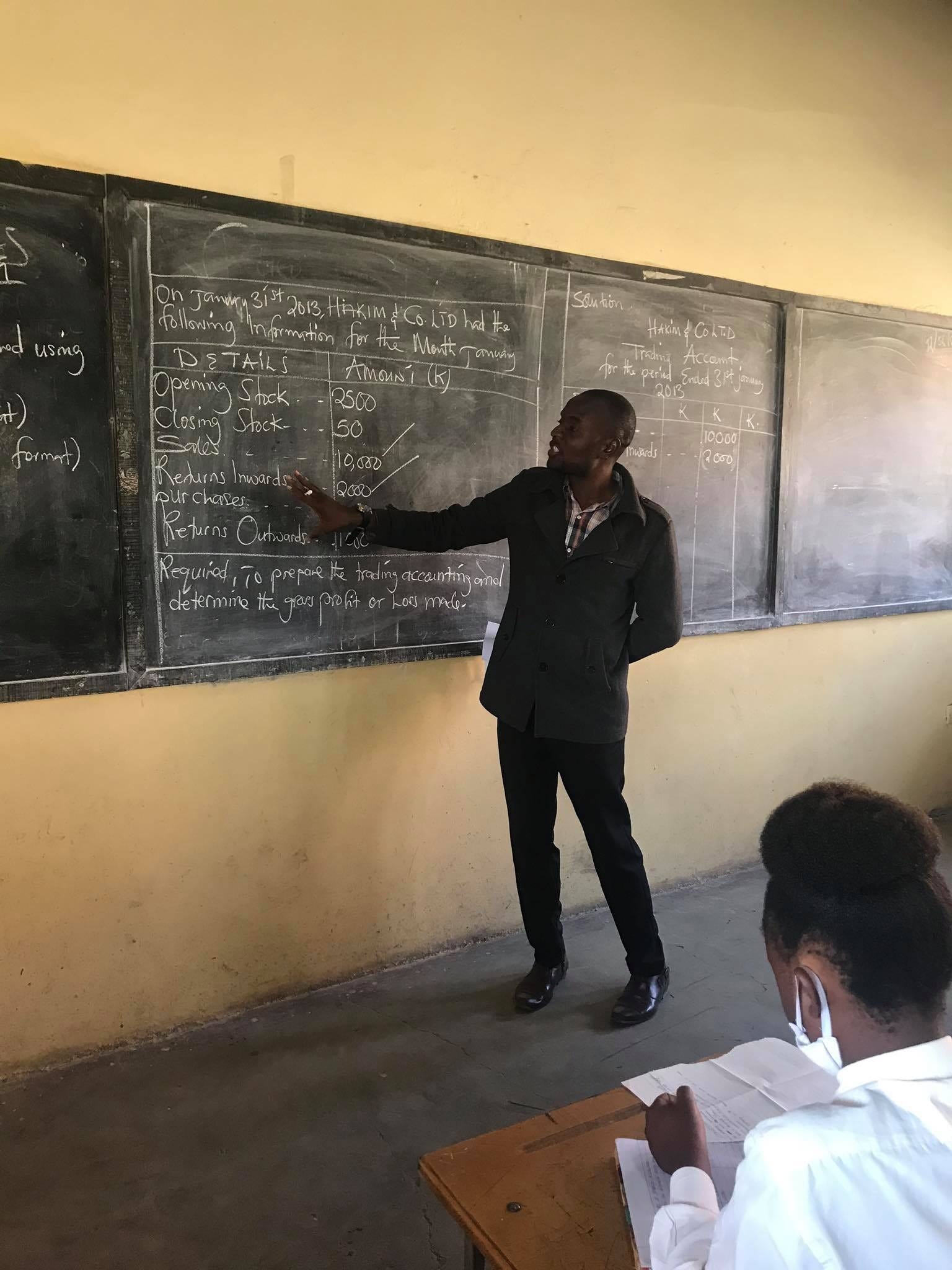 "The closing of the schools in Zambia puts Destiny Community School financially in a very difficult situation. Our only source of income are the school fees. But now that school is closed, no one will pay school fees anymore. If no one pays school fees, how can we manage to pay our teachers?"
Reverend Peter Kaunda, Executive Director
Our teachers are the key figures at Destiny Community School. They play a vital role in the learning process of our learners. Every day they teach with great passion to equip our pupils with all the skills they need to shape their own future, to live a self determined life and to break the cycle of poverty.
our struggle
Despite their hard work, our teachers earn as little as 60 USD a month. But it is this little that they rely on to pay rent, buy food and take care of their families. As much as the teachers depend on their monthly salary for basic needs, the school relies on them in order to keep operating. Without our teachers there would be no Destiny Community School.
But as contributions from the community are very little, we struggle financially every month. By supporting Destiny Community School you help our school to keep operating and providing quality education to the vulnerable children of our community and at the same time you support the teachers and their families.
Elisabeth Kasongo
With many years of experience Md. Kasongo teaches the middle class and Pre Grade. She has been with Destiny right from the start and younger teachers can learn a lot from her engagment.
Asa Mwape
Md Mwape does not shy any effort to prepare learning games for the Baby Class Learners. With a lot of passion and involving activities she lays a good foundation in these young learners.
Felistus Kasono
As the Grade 1 teacher Md. Kasono is an expert in making the most out of the little ressources we have. With creativity she provides hands on learning activities even though materials are not always available
Alibesi Banda
Creativity and effort mark the characterisitcs of Tr. Alibesi who currently teaches Grade 2. Colorful teaching aids and posters in her classroom make learning for the learners fun.
Monica Mutwazi
Our Grade 3 teacher is Md. Monica. Her quiet and calm character ensure a good learning environment for the learners. Every day she tries her ever best to help the learners acquiring new knowledge.


Elisabeth Sakalla
The Grade 5 children can learn a lot from Md Sakalla's quiet character. She is a dedicated teachers and planning is one of her strengths.
Moses Chalwe
Besids his great love for sports and music Mr. Chalwe passionatly teaches Grade 6. Being a former Destiny pupil himself, he prooves with his dedication how education can shapen a life and provide a chance for the future.
Belinda Malama
When teaching Grade 7 Md. Malama will not spare any effort to help her learners understand the learning content. Over the years she has helped many learners to improve in their literacy skills and feel comfortable in reading.
Henry Katongo
Science is Mr. Katongo's big interest and the practicals for the national exams would not run smooth without his guidance. With his many years of experience as a science teacher he prepares his learners for the exams.
Matthews Phiri
Mr. Phiri, a former social worker, has taught at Destiny for quite some years. His interests range wide and therefore he teaches civics, math, science or ICT. With his big empathy for all learners and ability to listen he is valuable part of the teaching staff.
Beauty Tompwe
Our expert when it comes to ICT questions is Tompwe. As a buisness studies and ICT teacher she assists the Grade 8 and 9 learners to acquire these very crucial skills for their future.
Jacklin Mambwe
While finishing her studies at college, Md. Mambwe is gaining classroom experience through teaching English to Grade 8 and 9. Her joyful attitude brightens the day for learners and fellow teachers.
administrative staff quality management
Yvonne Mapulu
school secretary

As the school secretary Md. Mapulu is the good heart of the school. Having been with Destiny right from the start she knows all the learners, their families, background and struggles. She is always eager to help and jump in.
Lea Eichenberger
Co-Worker

As a Co-Worker sent by the swiss organization COMUNDO Lea Eichenberger works among the teachers, conducts professional development trainings and supports the administrative staff.
Content from Youtube can't be displayed due to your current cookie settings. To show this content, please click "Consent & Show" to confirm that necessary data will be transferred to Youtube to enable this service. Further information can be found in our Privacy Policy. Changed your mind? You can revoke your consent at any time via your cookie settings.
Consent & Show
"The closing of the schools in Zambia puts Destiny Community School financially in a very difficult situation. Our only source of income are the school fees. But now that school is closed, no one will pay school fees anymore. If no one pays school fees, how can we manage to pay our teachers?"
Reverend Peter Kaunda, Executive Director